Our Investment in Zorro: The Next-Generation Health-Benefits Hero
7 May 2023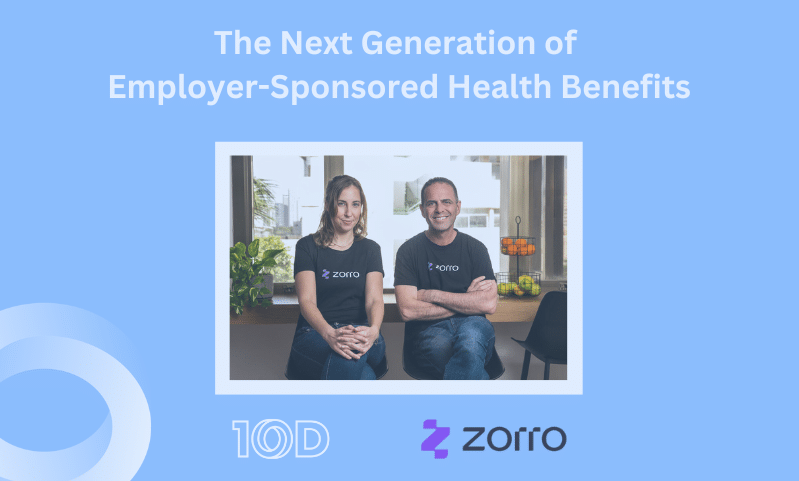 Announcing our Seed Investment in Zorro: Revolutionizing the Employer Health Insurance Benefits Experience
By: Yahal Zilka
Among the world's high-income countries, the US stands alone for the complexity of its health insurance system. Americans are eligible for different types of coverage depending on whether their employer offers it, what their income level is and what their age and health care needs are. According to a recent finding from a health insurance survey conducted by the Commonwealth Fund, many Americans have policies that only provide limited financial protection, to the point that many patients report foregoing needed medical care or prescriptions to avoid being hit with punishing out-of-pocket costs.
Furthermore, the America health system, although very advanced, is considered the most expensive, costly and inefficient. The US spends almost 20% of its GDP on healthcare, nearly twice as much as the average OECD country. Hence, a household without adequate health insurance is challenged and will have difficulties to keep up.
Zorro is tackling the broken US healthcare system with a mission to make it more accessible and affordable. Zorro's personalized health benefits platform leverages data analytics to help employers and employees alike shift from "one-size-fits-all" insurance plans to customized coverage predictable costs, providing employees with the coverage that best fits their needs while providing employers with predictability. Employers are able to personalize coverage while staying within budget, as well as maximizing efficiency and resources, while employees enjoy health plans tailored to their individual needs and budgets.
In today's healthcare environment, there is growing need for personalized healthcare. Zorro is capitalizing on a health insurance-related regulation launched in 2020 by the Federal Government called ICHRA (Individual Coverage Health Reimbursement Arrangement) which encourages a shift towards personalized coverage. ICHRA allows organizations of all sizes to reimburse their employees, tax-free, for their individual health insurance premiums.
We were impressed with the track record of Zorro's founders, Guy Ezekiel and Maya Perl, combined with their drive and passion to take on such an ambitious undertaking. Guy and Maya are both experienced technology leaders, healthcare experts, venture capitalists and executives, most recently working together at Pitango where they focused on digital health investments. The founders' deep understanding of the US healthcare system and needs of both employees and employers, coupled with their multi-disciplinary expertise in digital health, insurtech, software and big data analytical skills, makes us believe that they are uniquely positioned to address this huge unmet need in the market.
At 10D, we have been bullish about the digital health sector over the past several years. We believe it is positioned for major technological disruption and is in a good position to weather economic downturns. Zorro's platform, which sits at the intersection of digital health and fintech (another area of focus for 10D), harnesses the power of AI to create an innovative value proposition and addresses the growing demand for financial solutions that address increasing healthcare costs.
We are proud to welcome Zorro to our portfolio and excited to partner with them on building their game-changing solution. We look forward to seeing Zorro's platform transform the healthcare industry and improve millions of lives.