Our Investment in Evermile: The #1 Local Delivery Platform for Small Businesses.
15 May 2023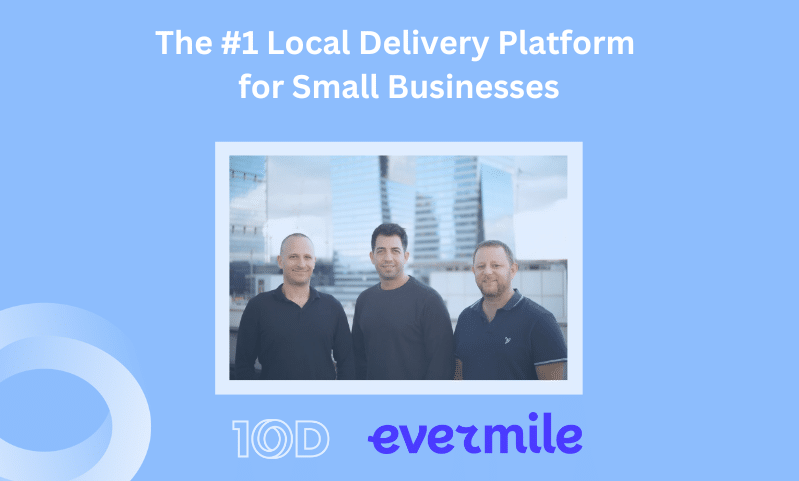 Announcing our Seed Investment in Evermile: The #1 Local Delivery Platform for Small Businesses.
By: Itay Rand
Over the past two decades, logistics has made significant progress in terms of availability, cost and service-level agreements. However, the proliferation of local shops and trade, bolstered due to Covid-19, has created a huge market gap in terms of distribution, delivery options and their ease.
Although the big logistics players managed to improve the global logistics chain, they failed to do so locally. The costs remained high, and a vacuum was created.
Among the reasons are the lack of local logistics centers, and often providing shops with the actual cost of distribution only in hindsight, which has severe implications on business.
This gap has emerged at a time when consumers are expecting better shopping experience and pricing, while shops face logistic challenges and uncertainty.
Evermile brings best-in-class logistics operations and prices to local trade (mom and pop shops), starting with the EU market. It's founding team, led by Omer Goldschmidt, Omry Hochberg and Ynon Cohen, a team of former executives from top companies such as Optibus and Via, brings unique founders-market fit, based on their impressive experience, expertise and deep familiarity with transportation couriers.
Evermile leverages technology such as dynamic matching and advanced modality adjustments to optimize efficiencies based on geographic and local needs (like matching the suitable vehicle and connecting several shops).
This means that local shops can now offer better deliveries, including same-day and specific-hour options without having to rely on expensive global services that do not cater to their specific needs.
On top of that, Evermile recognizes the value of local products and supports communities by externalizing more value through local trade. With a growing segment of local shops and their special requirements, such as baked goods, liqueur, local services, flowers, and more, there is a huge market opportunity that big players cannot cannibalize. Due to the lack of local sophistication and high costs involved, they simply cannot play efficiently.
Evermile's promise addresses all these challenges and helps disrupt the logistics industry by creating a win-win situation for local shops, consumers and couriers.
We are excited to support Evermile and becoming a partner in its mission to make logistics more efficient, cost-effective, and customer-centric.